Greetings Tracers, and welcome to the OriginTrail community website, made by volunteers of the OriginTrail community. If you have been to this community website before, we are delighted to still have you with us. Welcome back!

And for new Tracers, we are glad you stumbled upon this project. Some may call this one a "diamond in the rough".

First off, before I start this post, I want to highlight the main event going on in every country in the world right now. You probably guessed it right, COVID-19. It has been taking a toll on the global economy and global healthcare. Let's all practice good hygiene and safe social distancing. Stay safe everyone!

Now, it has been awhile since the previous update for the community, so let's start off with the major developments since the last post.
Let's get down to business.
New OriginTrail Homepage
OriginTrail became an official Oracle Partner for Blockchain Technology
OriginTrail and Oracle are working on an integration between Oracle products and the OriginTrail network that enables trusted data sharing based on distributed ledger technologies. Because of tight integration efforts, the enterprise software built by Oracle, namely ERP systems and cloud services, can be seamlessly connected with the OriginTrail network, and therefore other enterprise systems, by utilizing benefits of different legacy as well as novel DLT technologies, based on industry standards.

Check out the official news from Oracle Blockchain on Twitter:
https://twitter.com/ORCLBlockchain/status/1070678005763190784

TraceLabs and nOS
After becoming partners with Oracle, OriginTrail Core Developers were re-positioned as Trace Labs, a for profit company which builds on top of OriginTrail.

TraceLabs then started production of the nOS (Network Operating System) which is listed on the Oracle Cloud Marketplace for Oracle's enterprise customers.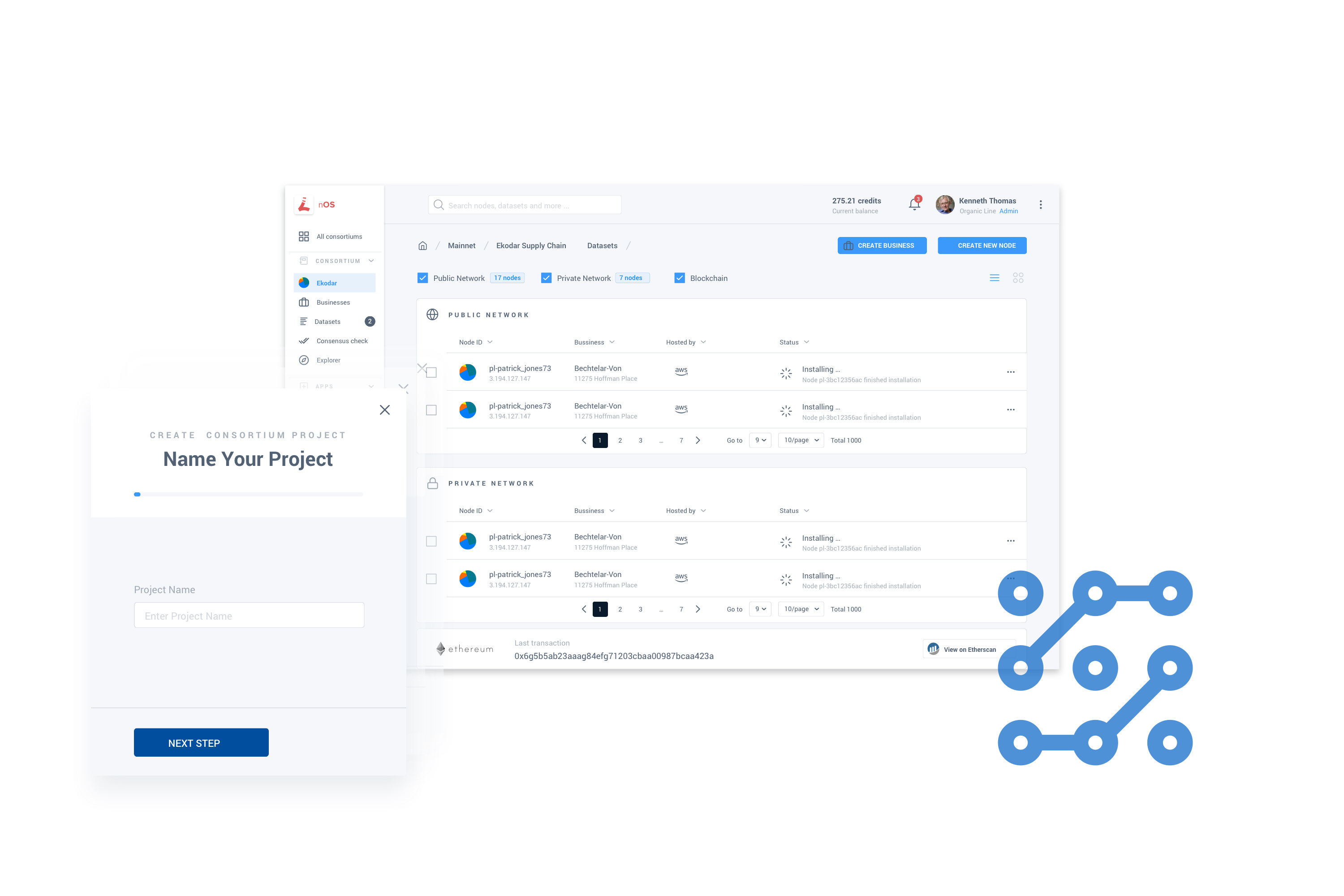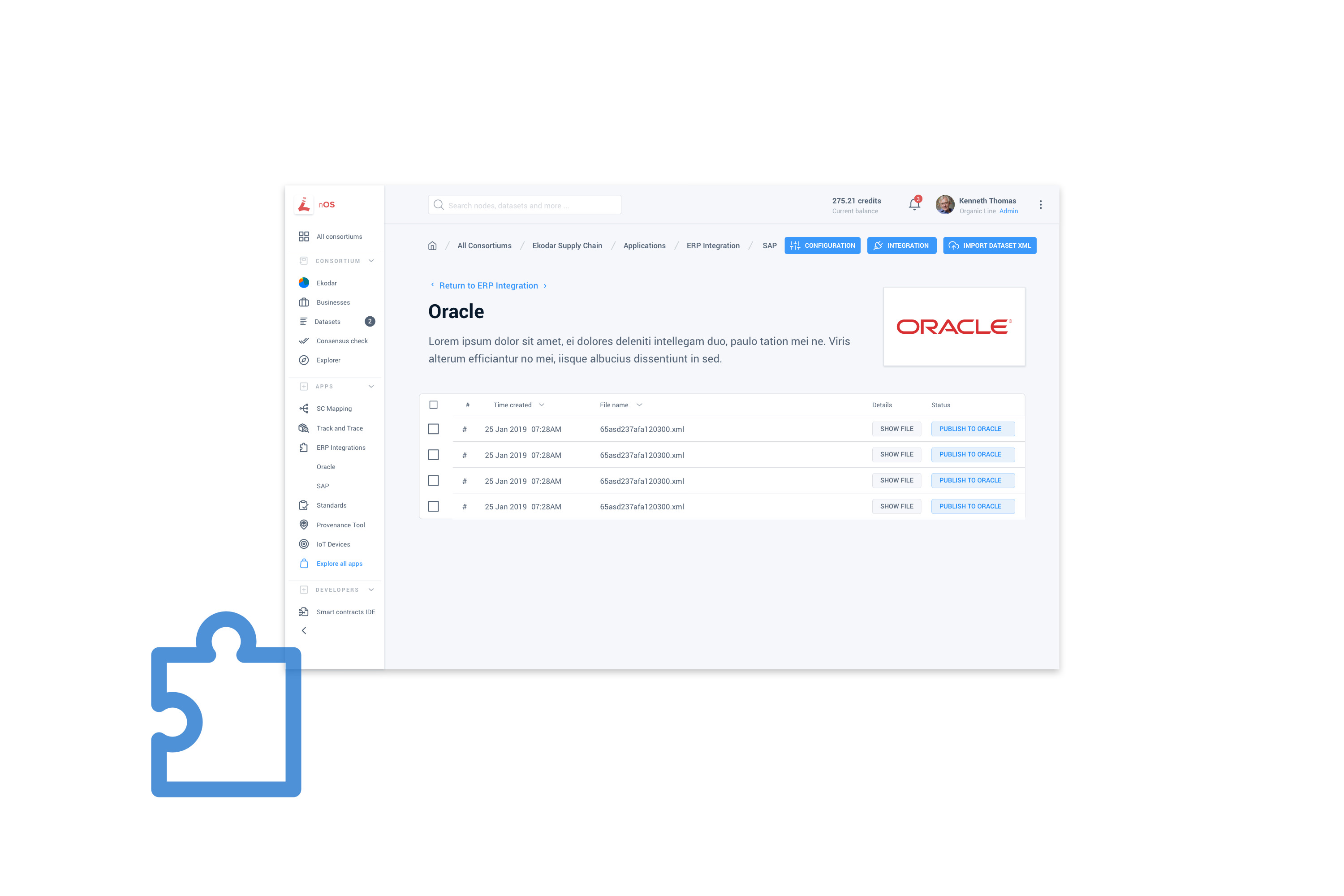 The Network Operating System (nOS) empowers companies to quickly setup data sharing focused blockchain use cases by performing quick network and node provisioning, setting up of consortia and their interactions with the various networks, public or private. Powered by OriginTrail protocol, nOS allows companies to rapidly build solutions for the common good of the entire value chain end to end, by utilizing globally utilized data standards, existing IT infrastructure and state of the art DLT/ blockchain technologies such as Hyperledger Fabric and Ethereum. As a result, nOS is what connects enterprise and SMEs' to the OriginTrail.

What is powerful about nOS is that it operates within the Oracle Cloud Marketplace using credits that are purchasable with fiat. But those existing credits are backed by the utility token, TRAC. Which is great for SME and enterprise because they technically don't even have type of cryptocurrency on their books, which is important.

nOS integrates with Oracle Blockchain Cloud Service, IaaS and ERP systems, as well as interoperates with all other major ERP and cloud providers.
Bittrex Integration
nOS is integrated to Bittrex which allows the users of nOS on the Oracle Marketplace to directly market buy TRAC off of the liquidity on Bittrex Global books. This allows enterprise and traditional companies to purchase credits within nOS and then is backed my a number of TRAC tokens, while keeping cryptocurrency off of their books. There is no market sell feature, so once the company buys the credits, it is held within their node until the TRAC is completely depleted. The only way the tokens make it back to the exchange/into circulation is that the Data Holders who were compensated are transferring them to an exchange to sell. With the way the jobs are set (currently some jobs lock token up to 5 years), the tokens out in the circulating economy are therefore reduced over time in respect to the amount of jobs flowing in the network (utilization).

Freedom / Gemini Network Mainnet

The long awaited Freedom-Gemini stage was launched in December 2019. The OriginTrail Decentralized Protocol mainnet was live on December 26th.

Here is what the Freedom-Gemini mainnet will do:
It will introduce litigation and reputation;
Remove the registration mechanism for nodes, leading towards a truly permissionless network;
Increase capacity and flexibility in the data layer a hundredfold and more, which extends support for much more use cases and enables interoperability across data sets;
Improve node communication security with the updated Kademlia implementation; and
Enable node runners to adjust one simple parameter to have more control over the node's ROI.


The update will allow businesses to:
Perform truly scalable enterprise-grade data exchange, with ODN nodes gradually accepting data sets of 100 MBs and more without an increase in hardware requirements;
Establish connectivity between a variety of IT legacy systems, including simple Excel files and complex ERP systems exports; and
Retrieve data outputs, ensuring inter-operability that relies on widely-accepted data standards like GS1 EPCIS, GS1 CBV, and W3C WoT.

Read more about the launch of the mainnet here.
And read about the metrics of how that mainnet has been doing since launch here.. Let's just say… More and more tokens are being locked by the day by real companies.

Invited to present at GS1 Global Forum 2020
Another year, another invitation. This year, it was to present to the GS1 Global Forum. Žiga Drev was invited to speak at the session on the blockchain. He presented Food Data Market, an open-source project leveraging OriginTrail protocol and GS1's EPCIS open standard, which provides incentives for greater visibility in food supply chains. With Food Data Market, data describing product visibility and storage conditions can be captured, valorized and monetized to provide incentives for greater visibility in food supply chains.
GS1 is the foundation of the OriginTrail solution. Without GS1 Standards, linking supply chain events would be much harder between companies.
Read more about the GS1 Global Forum at the Medium article here.
A New Token Use Case: The Food Data Market
The Food Data Market is an open-source software infrastructure, utilizing the OriginTrail protocol for trusted data exchange. This infrastructure can be applied to data exchange in any industry, not just in food supply chains.
Read more at the Medium article here.
Laboratory Data Marketplace
Using the OriginTrail protocol for trusted data exchange, LDM will allow laboratories and other test owners (like food producers or other organizations along the supply chain) to sell their existing isotope reference tests — either food-product-specific, water, or soil — to other laboratories, food producers, and government agencies. By combining blockchain technology and forensic science, we aim to develop a state-of-the-art solution to combat food counterfeiting and related food safety issues.
LDM will be an innovative application of the decentralized data marketplace. Based on the open-source OriginTrail infrastructure, we are continuously developing more marketplace features for various use cases.
"It was amazing to see the interest in our solution at the Innovators Assembly. The jury recognized the value of the laboratory data marketplace, which has the potential to span beyond the agrifood industry. We will now start building a solution that can be commercially deployed." said Jurij Skornik, General Manager of Trace Labs.
Read more about the LDM here.
Community Contributions
Video on OriginTrail and ODN by Guinnessstache
Mind Map by Community Member Bottomshorter
In February, I decided to create a mind map that visually displayed my thoughts of OriginTrail's ecosystem. To me it all made sense, but when I tried to explain to outsiders how it all connected and how this is potentially huge, they just kind of blankly stared at me. If you understand why GS1 is so important, then you understand this mind map you will see the potential of OriginTrail. Just look at Evrythng and BSI's customers, who are using GS1 standards, and who they can definitely help us get our foot in the door.
The future is bright for OriginTrail.

Stay safe and Trace On!